Welcome! This is the fifth episode in the "Build Your Business Online" course. So far, we have learned how to set up profitable Google AdWords campaigns. Most of the advertising world is focused on Google and their PPC advertising option (AdWords), after all.

Although Google does have the lion's share of the traffic, so it would be foolish to ignore what they have to offer, you should not ignore Bing Ads. This advertising network, which focuses on the old MSN search website (now Bing), Yahoo and AOL, allows you to reach an entirely different audience, and in many cases to do so at a lower cost than what you would spend with the Google network.
Online Marketing for Busy Business Owners


How to Run a Successful Bing PPC Campaign - FREE SAMPLE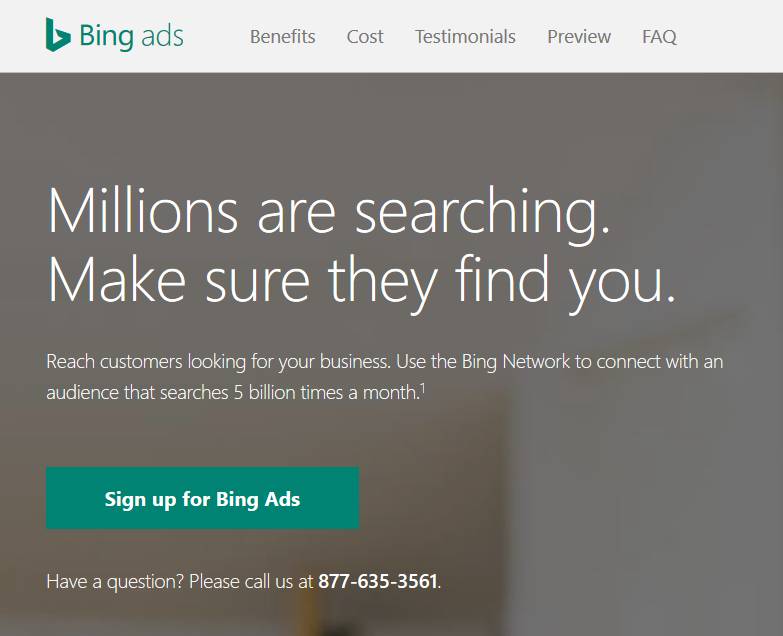 Setting up a new campaign with Bing is not difficult, but there are some things to keep in mind if you want to see the greatest degree of success possible. In this tutorial, we are going to discuss some of the key factors that allow you to advertise on this network effectively. Following this advice will help you maximize your ROI, reduce advertising spend, and take full advantage of what this unique network has to offer.

As we mentioned, the Bing advertising network allows you to show your ads on both Bing and Yahoo. Although the audience is lower in quantity than what you would find on Google, it is not of a lesser quality. If you really want to reach the most people online, and to do so at a lower cost, you should not ignore this PPC network. In addition, setting up your first campaign is fairly easy, even though there are some pitfalls that you will need to avoid. We will discuss both the positive and the negative factors of each step in this tutorial.

Obviously, the first step in the process is to sign up for an account, so that you can begin advertising. This is a relatively straightforward process, as it simply involves entering your information, including your personal details, and your payment information. Some people will set up a new email address for this purpose, but you may want to use one that is associated with your domain, and have it forwarded to your primary email account.

Become familiar with the available options. The set up for this type of PPC campaign is slightly different than what you will find on the Google network. In some cases, the options that they make available are more in depth than what Google offers, including some statistics on keywords. You should also become familiar with how to set up your ads, and even how to separate your groups of keywords, so that you can maximize your ROI potential.

Although there are going to be similarities in your keywords, your ads and other factors that are associated with a Bing PPC campaign, there are several differences, and if you maximize the differences, you will also maximize the benefits. When used in conjunction with each other, both Bing and Google allow you to get the most out of your advertising dollar.

Import your campaigns. Once you have set up the account, you can import your campaigns directly from Google. This makes it very easy for you to get all of your keywords and other data straight into the Bing network. Although the ease with which your information can be imported is not to be overlooked, you should not consider it done for good once that the import is complete. To do so would be detrimental to your return on investment.

One of the reasons why you would want to carefully look at the imported data is because of the maximum CPC that you may have set on your Google account. When you sign up for AdWords, you are allowed to set a base CPC, and then adjust the CPC for each individual keyword from that point. Bing is an entirely different network, so it is likely that you will find prices that are much lower on Bing. Take advantage of this by adjusting your CPC for each keyword, so that you are not spending more than what is necessary to show up at the top of the search results.

Desktop vs mobile. There is no doubt that mobile networks are a huge part of the Internet now, and many of your customers may be searching for your services using their smartphones or tablets. With Bing, it is possible to separate the network into these two different sections, which can really work in your favor. This is especially true if you do not yet have a mobile responsive website, which automatically adjusts its size and features according to the device that is being used to access it.

It is also important to break down the mobile versus desktop usage, because of the quality of the potential customer that is looking at your website. Depending upon your niche, you may find that it is more profitable to have someone visit you from their desktop computer, while in other cases, a mobile device may be the best choice available. Through careful testing, you will be able to determine which option is best for your industry, and then you can make the needed adjustments.

Don't forget about negative keywords, which can be used in both your Google and Bing PPC advertising accounts. Negative keywords are imperative if you want to maximize your CPC and ROI. They help filter out some of the clicks that would be useless for most niches; "free" and perhaps "job" would probably be two good examples. By entering those words into your negative keyword list, you will prevent your ads from being displayed in front of the people who are looking for employment in your niche, or are looking for free products and services.

The Bing advertising network is an excellent opportunity that every advertiser should take advantage of. It can also be your primary ad network, if you are on a tighter budget and simply want to get some potential customers for the lowest price possible. And when you set it up properly, it can certainly produce amazing results.

This concludes the fifth episode in the "Online Marketing for Busy Business Owners" course. Don't forget to check out the next tutorial, which will teach you how to use social media for lead generation.

See the outline of the entire Online Marketing for Busy Business Owners course.